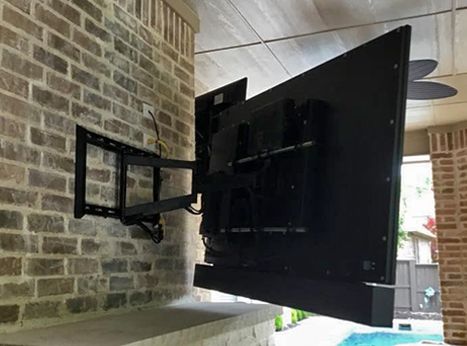 HOME THEATRE INSTALLATION DONE RIGHT
TV mounts are not as easy to install as they appear, especially if you are dealing with a flat screen TV wall mount for a screen that is larger than 50 inches. Dallas TV Installers happily serves the greater Dallas/Fort Worth area with exceptional home theater setups, including TV wall mount installation. Contact us today to learn more!
WHY YOU SHOULD HIRE PROFESSIONALS TO MOUNT YOUR TV
We will make sure that your TV is mounted correctly.
We will place your TV in the best viewing location.
Our installers will keep unsightly wires hidden.
Our installation services can save you time and money.
TV MOUNTING
Dallas TV Installers has nearly a decade of experience serving the Dallas/Fort Worth area. We know that we can handle your TV wall mount installation correctly. From home theater installations to smart home technology, Dallas TV Installers will work diligently to ensure you have an enjoyable entertainment system so you can enjoy your favorite TV series, video games, or sports. Below, we'll go over just a few of the reasons why you should hire a professional TV installation company for TV wall mounts. Contact us today if you have any questions or if you need to have your new TV mounted right away. We can usually have your TV installed within 48 hours!
Put Your TV Where You Want It
With today's technology, there's no reason you can't mount your TV along any wall in your home, regardless of where the outlets are located. Leave the hard work and the heavy lifting to us! Our technicians will mount your big screen TV onto the wall of your choosing so you can start enjoying your favorite shows, movies, and video games in no time at all.
Our Work is Covered by a Warranty
All of our TV mounting services come with a two-year limited warranty. We stand behind our work 100%. No TV is too big or too small for the Dallas TV Installers team to handle, so don't hesitate to reach out. We will give you a quote when you call so you know exactly what to expect.
We Can Install Any Brand of TV
Our team can work with any brand of television, so purchase the TV you truly want. With our crew on your side, you can comfortably relax and enjoy your new television without stressing over the details. Call us now for your price quote and to schedule your installation.
WHY YOU SHOULD HIRE US TO INSTALL YOUR NEW TV
We will ensure that your TV is mounted correctly. The last thing you want is to be enjoying your favorite Netflix show, and have your brand new flat screen TV wall mount fail. The professional TV installers at Dallas TV Installers know how to handle your TV safely and effectively so it won't fall and break.
Hiring us can actually save you time and money. By hiring us, you're saving yourself from having to buy a new TV if your store-bought mounts fail, and you will save a lot of time letting us take care of all the details. Do yourself a favor — call Dallas TV Installers today!
Dallas TV Installers is passionate about helping you have the home entertainment system of your dreams. It's nice to come home after a long day at work and enjoy a show. When you partner with Dallas TV Installers, you will know that your TV installation will not only last, but will be at the perfect viewing angle for you.