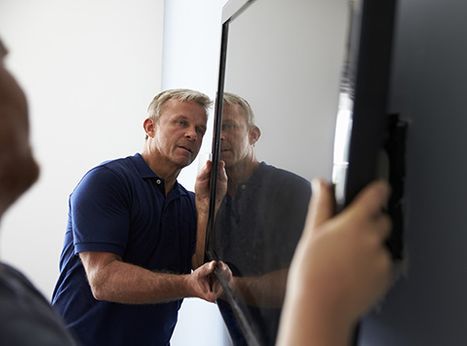 BRINGING THE BEST TV MOUNTS TO YOUR OFFICE OR COMMERCIAL SPACE
TVs in your office or commercial space just make sense, from informing customers of your products and services to keeping those waiting entertained. Dallas TV Installers specializes in TV wall mount installation in the greater Dallas/Fort Worth area. Contact us for your commercial TV mountings, surround sound, and smart technology today!
BENEFITS OF TVs IN YOUR BUSINESS OR OFFICE
TV makes waiting easier
TV keeps your customers informed
TVs give a more professional appearance
TVs make displaying information easier
TVs allow for subconscious advertising
TVs are great distractions for children
TVs offer everyone a break
And so much more!
COMMERCIAL INSTALLATION
It seems everywhere you go these days, you are faced with a TV screen. From the grocery store and your local bank to your doctor's and dentist's office, TVs are located prominently where all can see. So what's the value in having a TV in your office or commercial space?
Your business requires top-notch technology and reliable internet access in order to succeed. Not to mention, the best offices do not struggle with cables, wires and remotes — they have turned their focus to the future. With Dallas TV Installers, you can upgrade your commercial property's technology connections and appliances in order to put your best foot forward.
From wireless installations that will allow you to contact customers and potential clients without worry, to mounted TVs that display your specials or simply entertain those waiting in the lobby, your business has much to gain from the right upgrades. Add in smart home technology for unparalleled ease when it comes to meetings, or even just opening and closing each day. No matter what you want to do, the possibilities are endless.
Dallas TV Installers has almost a decade of experience installing TV mounts, surround sound, and smart technology. We understand the value of having a professional TV installation in your office or commercial space that is clean and cord-free. Below, we'll examine just a few of the reasons you should invest in commercial TV installation service in the Dallas/Fort Worth area. Contact us today!
REASONS TO INSTALL TVS IN YOUR OFFICE OR COMMERCIAL SPACE
TVs make waiting easier. If you're a professional office with inherent waiting periods, such as doctors, dentists, and chiropractors, then having commercial TV installation service by Dallas TV Installers will make the waiting time for your customers and patients easier. You can play the local news, the weather, kids' shows, or even daytime news shows, and your patients or customers will be so distracted that they won't even notice they are waiting.
TVs keep your customers informed. Having professional commercial TV installation service in the Dallas/Worth area by Dallas TV Installers is a great way to communicate with your customers. You can display your latest events, specials, latest products, latest industry news, and sporting events. Your employees will appreciate this as well.
Since 2010, our family-owned and operated business has served the home and business owners of Dallas Fort Worth and the surrounding areas in their quest for a more connected life. The right technology makes life easier, more enjoyable, and happier. At the end of the day, that is our mission. With a two-year labor warranty on our services, you can rest assured that your appliances and upgrades will run smoothly for years to come. Get in touch with our team today for a free price estimate. We look forward to upgrading your business.
Dallas TV Installers in Dallas/Fort Worth offers the best commercial TV installation service. We ensure your TV mounts hide all cords and look very professional. When you partner with Dallas TV Installers for your commercial TV wall mounts installation, you can rest assured your customers, patients, and employees will be appreciative. Contact us today!