THE BEST DALLAS/FORT WORTH SURROUND SOUND INSTALLATION SERVICE
Home Theatre Installation Come to Life with Surround Sound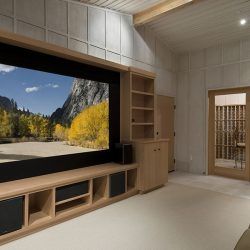 EXPERIENCE THE MAGIC OF MOVIES WITH SURROUND SOUND
There is nothing quite like surround sound to make you experience your favorite movies and TV shows. You feel like you rescued a princess, vanquished the enemy, and saved the day. Dallas TV Installers specializes in installing surround sound for your home entertainment system. For all your TV mounting services, surround sound needs, and home theatre installation in the Dallas/Fort Worth area, we can help. Contact us today!
BENEFITS OF SURROUND SOUND
Allows you to fully experience what you are watching on TV
Richer tone, treble, and bass
More realistic
More memorable
Overall improved listening experience
Great for video games
Makes for great entertainment of friends
And so much more!
SURROUND SOUND
Nothing quite beats the thrill of feeling as though you're actually inside the movie. With the explosions, the romantic moments, the epic battles, nothing can bring a film or show to life quite like surround sound. If you're ready to upgrade your entertainment space, it's time to turn to the professionals at Dallas TV Installers. With close to a decade of experience on our side, we know exactly how to take your space to the next level.
Installing surround sound in your home or office makes for an experience as close to the movie theater as you can get. With the sound of the movie or TV show surrounding you, you can feel what it's like to gallop on a horse at full speed, fly through space, and score a touchdown with your favorite football team. If you are going to watch TV, you might as well watch it to the fullest. You can hear the tiniest whisper, the subtle laugh, and catch every nuance meant to be conveyed.
Surround sound setup is easy with Dallas TV Installers. Serving Dallas and Fort Worth, we help people enjoy their home entertainment system more completely. In fact, we can set up your entire home entertainment system, including TV mounts and smart home technology. Below, we'll talk about some of the reasons you should install surround sound in your home or office, and then contact us to get started today!
Whether you want your speakers hanging from the ceiling, attached to the back of your couch, or strategically placed around the room, our technicians are on your side. We get the job done the right way. We'll connect the audio and video equipment in the room, then assemble any necessary speaker stands that came with your equipment. From there, we'll program the remote and talk you through the new system.
REASONS TO INSTALL SURROUND SOUND IN YOUR HOME OR OFFICE
Superior sound. Surround sound works by sending different information through different channels to the various speakers in your room. You thus have four or more speakers sending you sounds instead of the typical two that comes with your TV. Not only is the sound of movies improved, but also the sound of sports, video games, and music when played on your home entertainment system.
Better experience. If you spend a lot of your time watching TV, TV shows, sports, or playing video games, then installing surround sound is for you. You'll notice an immediate difference, and you'll wonder why you never installed surround sound sooner.
From start to finish, we are here to answer your questions and help you feel informed about your new system. Whether you are getting ready to dive into the new racing game or an action-packed film, we know your new surround sound system will help you experience entertainment on a new level.
With Dallas TV Installers, it's never been easier to install surround sound in the Dallas/Fort Worth area. We work with your schedule to make it convenient for you, and when you partner with us, we'll place your speakers in the correct spots for optimal sound quality. Give us a call today to get started!