HOME | GALLERY| REQUEST A QUOTE
214-797-3775
See what our clients are raving about on Facebook!

Welcome to Dallas TV Installers
My name is Andrew Price, and I started Dallas TV Installers knowing that there are too many companies out there that are just too proud of themselves. I believe that it should not cost an arm and a leg to have a skilled installer come to your home and Mount your TV or Install your other Audio Video Components. I would not pay the cost of the big box stores or the mega companies, and neither should you.

We are Insured and Bonded for up to one million dollars and proof can be verified through our insurance agent. The idea is to make getting your install done as painless as possible. Every Job is detail oriented, clean, and professional. We pride ourselves in doing a better job than the mega companies every time. A good number of our jobs are from referrals. Our goal is for you to refer us to your friends too.
Installs Include 2 Year Warranty For Parts & Labor (excluding accidental damage.) Plus a TWO YEAR LIMITIED WARRANTY that your mount will not come loose from the wall unless intended. Many Times We Can Do Your Install Within 48 Hours.
We Serve The Entire DFW Metroplex, including areas North of 121. Available Monday-Friday 9-8pm & Saturdays 12-6pm.
We Accept Cash, In State Checks, Paypal, & Credit Cards.
PRICES START AT ONLY $100!
Call today for a FREE estimate! We are authorized electronic dealers and can build your perfect Media Room or Surround Sound for less!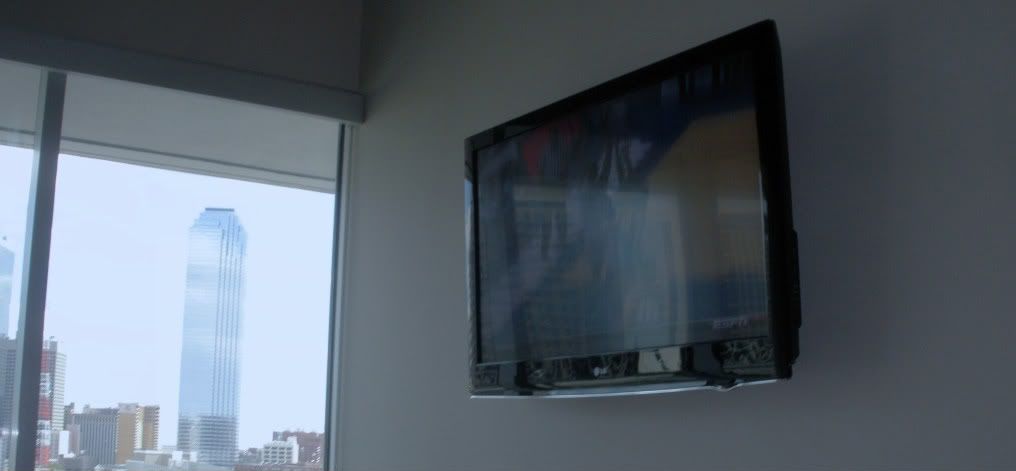 ADDITIONAL TV MOUNTING SPECIALS!
-Table Top Setup starting at $100.
-Standard wall with exposed A.V. wires zip-tied starting at $150.
-Standard wall with concealed A.V. wires starting at $200.
-Fireplace with concealed A.V. wires starting at $250.
-Brick or Stone Mount starting at $250.
-Power Bridge Electrical Concealment Kit starting at $100.
-Mounts and Cables available at fair prices.

HOME THEATER & MEDIA ROOM INSTALL

We can build your Media Room within your budget.

- Setup Receiver in prewire room starting $300.
-Setup prewired Projector & Screen starting $500.
-In Wall or Ceiling speaker installation starting $65 each.
-Logitech Harmony Programming starting $200.

ADDITIONAL SERVICES
- Hanging Pictures, Paintings, Mirrors, Shelves, Curtains, Blinds, or any other objects to perfection.
- Assemble furniture or TV stands.
- Dismount TVs from the wall and pack electronics for movers using your packing supplies.
-Patch Damaged Sheetrock and Texture.